I realized that since starting HHJ I have switched some prods and may not have mentioned them, so this post is dedicated to that :-))
I have not sat and thought of a staple relaxer yet, usually before this journey I could just go and pick up whatever blindly, so I used a Motions relaxer in August...which I did myself and was SUPER under processed so I could not get a real accurate feel of that.
And in October I used
Silk Elements Megasilk relaxer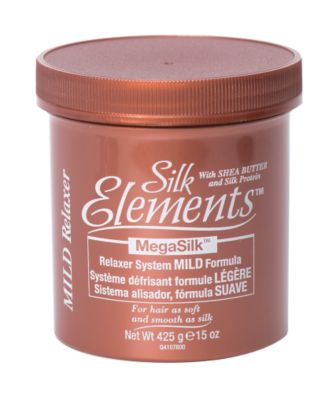 and it straightened my hair out EXTREMELY well considering the amount of new growth I had. My only thing is my hair is bone straight, like lying on the sides of my face straight :-/
Keep in mind I am just now about a week and a half post, so hopefully as I gain more new growth some body will pop back in it. :-)
So SE is like my 1st relaxer I've used since really trying to pay attention to my hair. IDK if I want to play around with different relaxers and see how my hair reacts or if I just want to stick with what I know.
I used
Silk Elements Moisture Treatment
and my hair gobbled it up..loved it....another Lista used it and her hair had a bad reaction to it. That is what scares me with trying different prods, I would hate to have a set back due to curiosity.
Needless to say; I have yet to decide which relaxer I will use, but so far it is Silk Elements, and Im having good results.
Because I am bunning alot and I hate gel or JAM on my hair I am using
ORS Smooth n Hold creme and Edge Control
.
This has been a hair saver for me...DEFINITELY a staple product, and Im actually running out of the smooth n hold and will be repurchasing very soon. :-))
The cream is just that a cream, it does not feel jelly or hard on my hair, it does not leave flakes, it does it's job and I am just THANKFUL for this...I HATE hard crunchy hair as a result of gel...even JAM makes my hair hard, dries it out, and leaves flake. Smooth N Hold is a MOISTURIZER!!!!! It moisturizes while holding...ya can't go wrong :-))
The Edge Control
, is like a hair wax (the bees wax, used to be orange) yea to me it seems like that. It is a convenience to have, when I need it, but I honestly don't use it as much as I use SNH. I usually just apply the SMH to my edges and brush it...and for the fly aways I may use the edge control. But it is a lovely prod to have as well, when i do have to use it.
I did a review on
Shea Moisture Deep Treatment Masque
which is actually targeted for natural hair, and I use that DC during my longer stretch periods, because it is great on my new growth. I have not used it yet on my relaxed hair. but LOVE IT for my ng, it cuts through it and melts it like buttah baby.
For my cowashes I am an AVID
V05 CLARIFYING CONDITIONER
user :-)
AVID A.V.I.D!!! lol I emphasize that because that I have recently tried tried and TRIED to feel the magic with Herebal Essence Hello Hydration...but it was just blaaaaah....It was average, just another wash...but I kept trying bc all of my Listas swore by it...but when I used my V05 CC, it was no doubt about it, every single time my hair just melts, loves this stuff,. It is the perfect consistency for me, perfect amount of slip, just lovely. My hair responds well and this is undoubtably a staple for me. I have even used Moisture Milks and it did not do what Clarifying Conditioner has done for me, but I will return to Moisture Milks just to see once again if there is really a difference now that I now know how to "LISTEN to my hair.
And from the beginning of my journey I still use Aphogee 2 min Reconstructor, once a month now for maintainence.. and I use Hair One now as only a leave in....both of which I still love :-D
As for Oils, I use:
EVOO
and
Coconut Oil
I do not use the EVOO as often as I use the Coconut Oil. I seal with Coconut Oil, because it is light, and smells great and seems to be moisturizing as well.
I use EVOO with Oil Rinses or Prepoos.
Oh and the one and only
Castor Oil
I use to promote growth. I have went from wrapping my ponytail holder 3 or 4 times around my ponytail, to now only having to wrap it around twice :-D
WHAT ARE SOME OF YOUR STAPLES???